So I've taken just a
wee
little break from designing this past week or so, and somehow managed to organize my life and time to have scrapped five - count them, FIVE - pages since Friday! Can you believe it?!! I'm not sure I can! And gee whiz, it's sure been fun! :D So, just for kicks, I thought I'd show off my handiwork.. {each image is clickable for credits}
My sweet little niece, who my sister generously lets me scrap whenever I get the urge for some pink in my life, lol..

And of course, my little bug.. not so little, anymore, though.. He'll be two at the end of January, and I'm hoping to get his first year book finished by then.. not sure it's going to happen, but we'll see..

And this last page, I just have to tell you about.... So, as you may recall, there was a little Facebook Fan Drive competition amongst some of the designers over DSD.. The prize? The losers all had to scrap a page with a new kit of the winner's choice.. And boy - I'm SO glad Chelle won!! :D You may have heard about the
journaling class
she's teaching beginning in January, and if not, let me put in a little plug here... It's a four-week class designed to help you get out of your journaling rut - or to start journaling in the first place.. I've seen a sneak peek at some of her lesson plans, and man - they are KILLER! SO fun, and a total must-have experience for anyone wanting to make their journaling a little more special.. Because that's what scrapping's all about, right? The STORY!! So anyway, as part of the class, you get an awesome mega kit - shown below - as well as additional weekly freebies.. I'm telling you - SO worth it!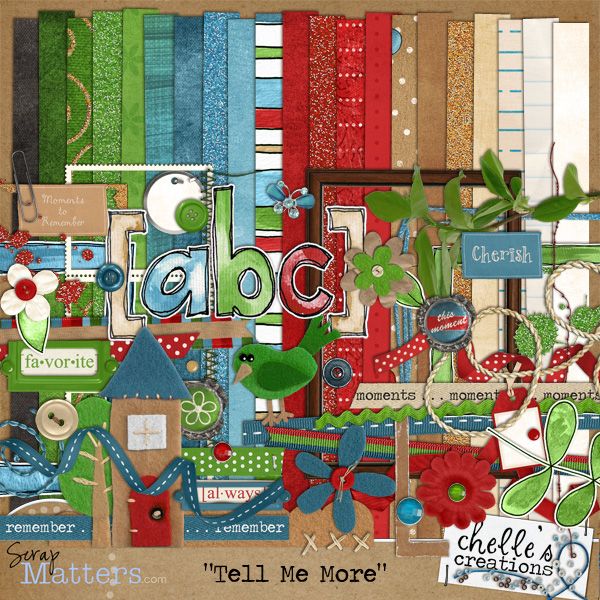 So - that's the kit you get, and here's a page I did using it, and my
Just Call Me Cowgirl
templates.. I really like how it turned out.. :D
So - if you're feeling a little inspired to go "back to school" - or at least take a gander - go check out the
product description
for more info on this awesome opportunity.. And I'll see you on Friday with a brand new kit with an old friend of mine.. :D