Well happy Black Friday, everyone! If you're just getting back from braving the crowds in the wee morning hours, congratulations! For those of you still heading out - best of luck! I've never done the crazy sale hunting myself, but I think I'd like to at least once in my life.. This year, though, just a quiet morning at home with the family.. :)
---
Anyhow, I have 3 fantastic new releases to show you this week, but first, a message from our sponsor.. ;)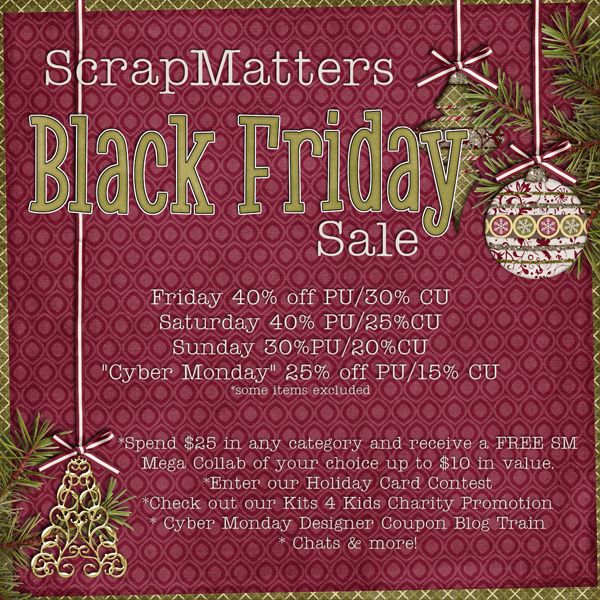 You can find out more details and schedules for the chats and speed scraps
HERE
.
With sale prices this low, if you've been holding out on purchasing one of your favorite kits, now is the time to do it.. Perhaps one of these is getting a little too comfy in the warm confines of your wish list..
---
Now - you may recall the
Boxed Up Advent Calendar
I released last week.. Well, I'm also offering the
templates
for the boxes in 3 sizes - perfect for gift-giving, creating your own custom advent project, and so many other fun uses, as well! I, personally, am looking forward to handing out matching hand-made necklaces to the girls/women in our family in their own personalized gift boxes.. What can YOU think of to use them for?
---
I've also teamed up this week with an old ScrapMatters alum -
By Becca
- to create this absolutely stunning holiday kit!
A beautifully traditional Christmas kit with subtle vintage undertones, plenty of gold accents, and just the right amount of sparkle - perfect for adding a bit of class and elegance to your holiday pages. We never even talked about the kit having any sort of vintage feel to it, but we both managed to put just the right combination of things together to give it a classic, turn-of-the-century feel.. I'm really SO pleased with how it came out! :D

I also have this coordinating alpha, but it's SO timeless and wonderful, it can work with pretty much any kit you choose...
A classic vellum alpha with a subtle damask pattern, edged in a delicate glitter detail - perfect for winter, holidays, weddings, special occasions, and so much more! Comes pre-shadowed in 5 colors: red, green, gold, blue & pink. Upper & lower cases, numbers and some symbols.


---
Now check out these killer CT pages.. There were so many I couldn't include them all, but definitely keep an eye on the galleries this weekend - there is some serious talent out there, kids... ;)
---
My newsletter subscribers got this matching freebie.. If you're not already subscribed, you should be.. ;)
---
And now - the winner of this week's sneak peek contest is.... jovita! Email me for your coupon..
And of course, be sure to check back here on Monday for a coupon blog hop - special coupons to supplement the Cyber Monday sale from select ScrapMatters designers.. Until then.... Happy Scrapping! :D